Object Lesson
Theme: Trials and Disappointments
When Things Go Wrong, God is Not Surprised; He's Still in Control
Sometimes things go wrong or things happen unexpectedly. We tend to get disappointed when circumstances don't seem to turn out the way we had hoped. But God is in control of all things and He is never surprised by what happens. He is able to work all things together for good for those who love God (Rom. 8:28). Our disappointments are often God's appointments.
This object lesson is meant to show something that does not seem to work out the right way, but actually it ends up coming out exactly right (to the great surprise of your students!).
Before doing the experiment, put an envelope before the students but don't show them what is in it. But tell them that there is a surprise in the envelope. You can tell them that there is a piece of paper in the envelope and also some coins, but don't tell them any thing else.
Draw a TIC-TAC-TOE design, but instead of putting in X's and O's, you will write 9 numbers as shown below. Tell the students that if this experiment works properly, they will end up with a number at the end, and they will get a certain amount of coins which will equal that number. For example, if they end up with the number 8, then they will get a nickel and three pennies (or eight pennies).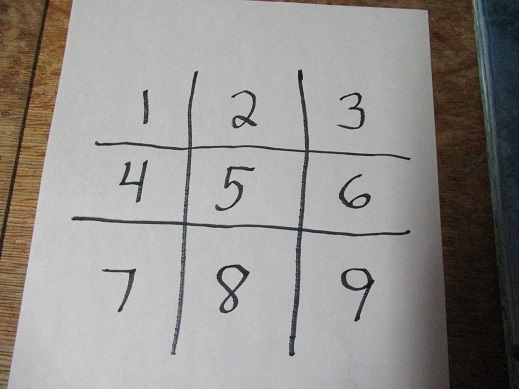 To start off, have a volunteer circle one of the numbers. It doesn't matter which number he or she chooses (see below where the number 4 was chosen).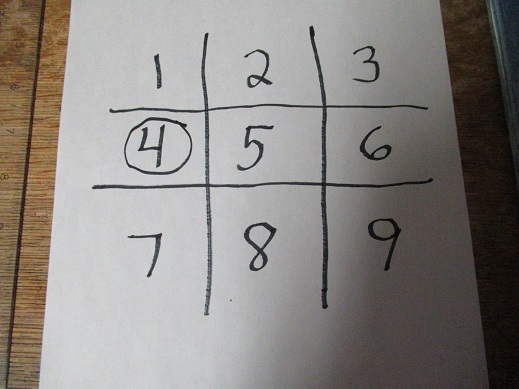 Then have another volunteer cross out the other two numbers in the same column.
Then have the same or another volunteer cross out the other two numbers in the same row, as pictured below.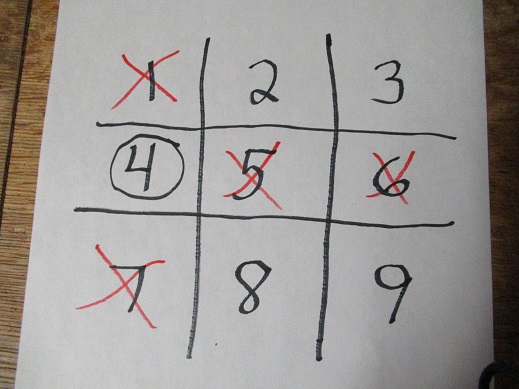 There are now four numbers left (not counting the number that was circled at the beginning).
Have another volunteer choose one of those four numbers and circle it (in the picture below the number 2 was chosen).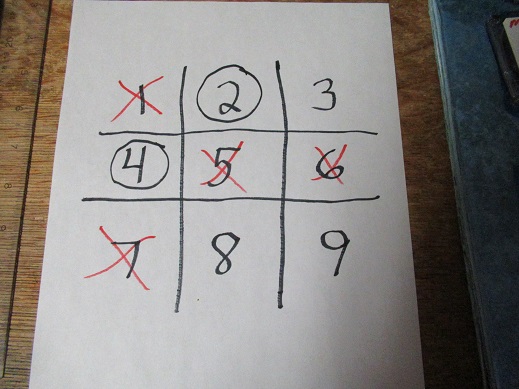 Now have a volunteer cross out the one number in the row and in the column that had not been crossed out before and cross out those two numbers, which in this case would be the 8 and the 3 (see picture below).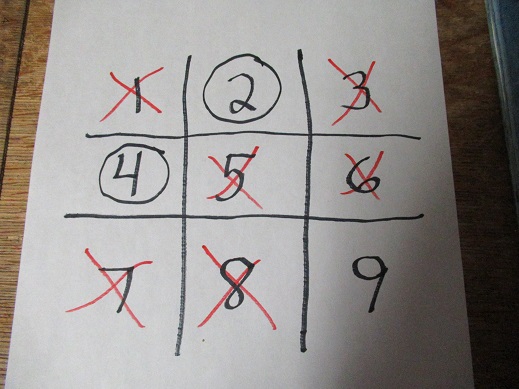 You are now left with the two circled numbers and one other number. Add these three numbers together and you will get 15 and divide that number by two and you will get seven and a half (7.5). [15 ÷ 2 = 7½]
Now you need to pretend that the experiment did not work out: "Oh no, we ended up with seven and a half. How will ever get coins to equal this amount? We can have a nickel and two pennies which equals seven, but how are we going to get a half? We do not have a coin that is worth half a penny. Something must have gone wrong." But don't worry. Even though it seems like it didn't come out too well, let's see what happens. Remember, no matter what happens, God is in control and God is never surprised.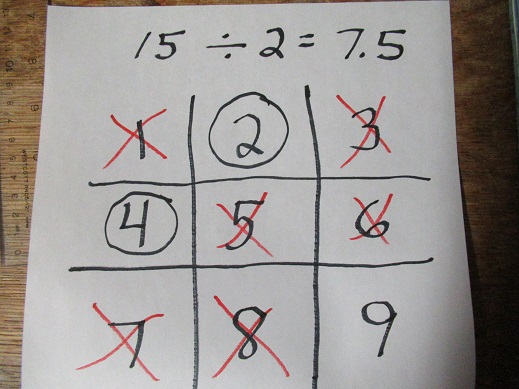 Now show the students what is in the envelope. First, tell them that there is a piece of paper in the envelope. When they take the paper out, it will have written on it "Seven and a Half." Then have them empty the envelope. Out will come a nickel, two pennies and a half of a penny [a penny can be cut in half with a tin sniper tool or metal shears].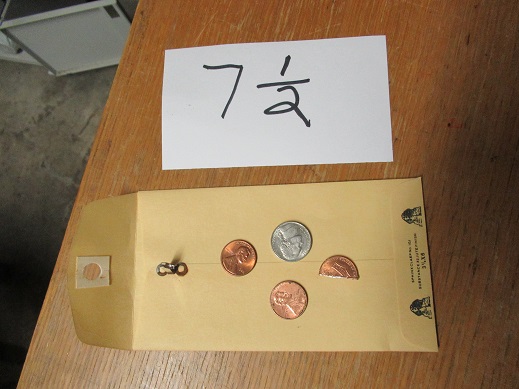 This experiment can be repeated. No matter what two number are picked by the volunteers, the final three numbers will always add up to 15.
Remember to stress the truth that God is never surprised, even when things do not work out the way you think they should. God can even use unfavorable circumstances to work things out His way.


Return to More Object Lessons (Index Page)